On Thursday 8 October 2020, we had the privilege of hosting the Teaching Law with Technology Prize final in partnership with the Association of Law Teachers (ALT). Three worthy finalists presented some inspiring and exciting ideas to engage students and develop practical and technological skills that they can take into their future careers.
We first heard from Maria Tzanou, from Keele University, who won the prize in 2018 with her project 'New Technologies in the Law Classroom' which looked at:
new technologies and how the law can regulate these;
the extent to which privacy policies adequately addressed the challenges arising from social media and other online products;
technology as means of student engagement; and,
how technology can be used to implement the law.
Since winning the prize, Maria has developed the scope of the project to include new technologies and associated risks and regulatory approaches. She has also focussed on advancing her students' practical skills. While Covid-19 has presented new challenges as learning shifted online, Maria has found that technologies can be more than a tool for learning; they can be used to engage harder to reach and disadvantaged students.
The delegates then heard from our three finalists.
Justice in Action, The Open University
Hugh McFaul's Justice in Action module at the Open University brings the experience of clinical legal education online to ensure the university's distance learners gain vital practical skills that are traditionally gained in face to face law clinics.
The projects include:
the Open Justice law clinic, an online legal advice centre;
the Digital Justice Project, using smartphone apps to deliver public legal education materials on employment and family law to members of the public using chatbots;
online mediation including participating in an online simulation; and,
partnerships with access to justice organisations allowing students to work on both policy and individual live case research.
All 7000 law students at the Open University are distance learners. As such, the Open University has been supporting other universities who have been forced by Covid-19 to re-think their approaches to developing practical and technical legal skills in an online environment.
Law Padlet Project, Bristol University
Imogen Moore's Law Padlet Project at Bristol University uses simple, free technology to improve students' engagement and confidence. The project was devised to help students overcome their fears of raising points of understanding in front of their peers in large groups.
Using Padlet, law students ask questions anonymously in real time for the lecturer to address either immediately or at natural points during the lecture. The results have been positive for both students and lecturer. Imogen spoke of having greater insight into her students' understanding of the subject and students have asked for this method to be repeated across other subjects.
Legally Bound, University of Central Lancashire
The winning project was Linda Chadderton's 'Legally Bound', a workshop and escape room run over two days. Linda, a former litigator and now a lecturer at the University of Central Lancashire, was inspired by what she had heard from other ALT members and was determined to leverage technology to develop her students' practical skills.
"I feel our students need to be really good problem-solvers and put those skills into practice."
The escape room has six tasks involving problem-based learning using virtual reality, an online quiz, a chatbot, a jigsaw, and textbooks. The students are told they are acting for a lecturer accused of racial profiling. Students are handcuffed and proceed through the tasks, using the learning they have done on the module to uncover clues. Activities include:
breaking into a safe, the code for which is the year of a case;
using VR goggles to reveal a series of clues;
completing a jigsaw to reveal a code; and,
solving a team quiz related to court structure.
More detective work based on their case law research reveals further clues. Eventually they interact with a 'judge' through a chatbot who reveals more clues to enable them to escape the room.
"The student response has been overwhelmingly positive", says Linda. "Gamification has worked in increasing engagement and enjoyment of learning in our programme."
Further, since Covid-19 hit, the project has successfully moved online using Microsoft Teams. The judges praised Linda's project as innovative, inspiring and above all, fun.
Many congratulations, Linda.
Tech skills and aspiring lawyers
While the judges deliberated, legal technologist and futurist Joseph Raczynski gave us a glimpse of the technological innovations coming in the near and longer terms and sense of what this could mean for legal advisers.
Technological and business skills are as in demand for those recruiting lawyers, as other professionals. Last year Thomson Reuters' Delta Competency Model report revealed how the profile of skills most in demand and the sorts of competencies that recruiters are searching for is shifting.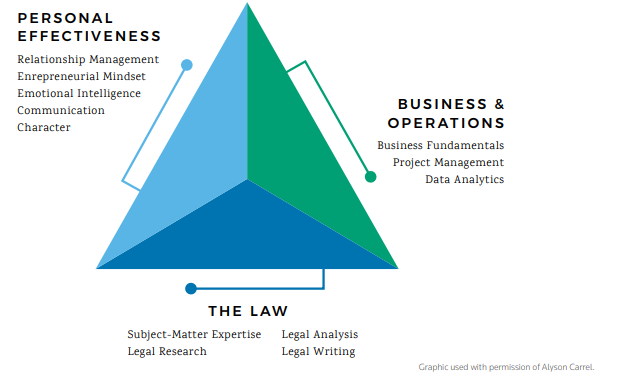 Thomson Reuters is proud to support its academic customers as they continue to innovate around legal education to develop aspiring lawyers' technical legal skills and the technological skills and business acumen necessary to succeed in this vibrant market, to their benefit and that of wider society.